Get to know us
Dr hab. Jarosław Jarząbek
Lecturer at Global Studies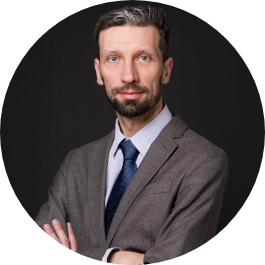 Dr hab. Jarosław Jarząbek
Lecturer at Global Studies
"Only the truth is interesting. Studying Global Studies and international relations, you will discover the truth about the world."
Whether you want it or not, we live in a globalised world. The level of economic, political and social interdependencies as well as the intensity of the intercultural exchange between individual countries and regions have never been so high.
Moving around the world and carrying out economic, political or social cooperation require a thorough understanding of these conditions and high inter-cultural competencies.
I am the coordinator of the Global Studies speciality in the Institute of International Studies. I specialise in issues connected with politics, security and specific features of conflicts in the region of the Middle East. For more than 15 years, I have been studying and following the course of the Palestinian-Israel conflict, its specific circumstances and consequences. I also analyse contemporary terrorism and Islamic fundamentalism.
In the subject of Global Studies, I run the following classes: "Middle East in International Relations", "Cold War in Central and Eastern Europe" and "History of Political Thought".
The most important thing in my relations with students is to provide them with inspiration for independent thinking and to instil in them a passion for studying. If you decide to study in the Global Studies faculty, you may expect lively discussions during classes, support in searching for answers to questions that bother you and an individual approach to each student.
Do you want to learn more about my work? Below you will find links to several of my articles:
"The Theory of Regional Security Complexes in the Middle Eastern Dimension"
"G.C.C. Military Spending in Era of Low Oil Prices"
"Contemporary Praetorians in the Middle East Iran's Islamic Revolutionary Guards vs. Saudi Arabia's National Guard"